Socle Stochastique - TL;NH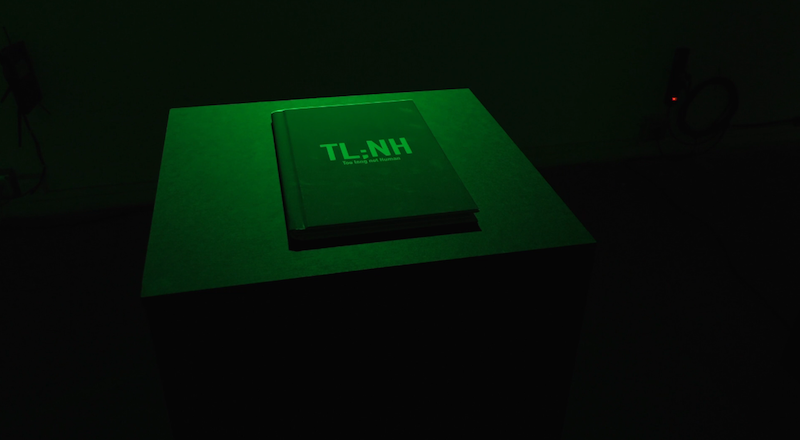 Too Long ; Not Human
[EN]
Stochastique Socle is a base presenting an edition related to the work of a robot on the network. A sound device present inside emits different synthesize vocal sentences coming from the presented edition.
Edition tracing the work of a robot on the social network Tumblr. This edition is a synthesis entirely generated by Internet users and various programs that interacted with the robot. This robot generates since 2015 his own blog using the virtual content of other users of the network. Leaving messages on the content to incite to create a form of dialogue with other users.

This edition reports on four years of activity of a computer robot (bot) on the social network "TUMBLR". This Bot is a simple computer program using the content of other users randomly to create its own blog.

Thanks to the accumulation of 35 000 hashtags allowing the referencing of the contents on the network, this bot allows to have a realistic vision of the whole network, like a sample. After the accumulation of hashtags, no filter is put on the content. The Bot "reblogs" the content every seven minutes since the year 2015 and when "reblogging" writes a random comment according to a predefined list. In time, new relationships emerge from its simple operation, receiving many messages, and highlighting practices and behaviors that can be discovered on this network. The sociological cliché of a system of complex relationships seems to be forming.

[FR]
Stochastique Socle est un socle présentant une édition relative au travail d'un robot sur le réseau. Un dispositif sonore présent à l'intérieur émet différentes phrases vocalement synthétisées venant de l'édition présentée.
Édition retraçant le travail d'un robot sur le réseau social Tumblr. Cette édition est une synthèse entièrement générée par les internautes et différents programmes qui sont entrés en interaction avec le robot. Ce robot génère depuis l'année 2015 sont propre blog en utilisant le contenu virtuel des autres utilisateurs du réseau. Laissant des messages sur le contenu pour inciter à créer une forme de dialogue avec l'internaute.

Cette édition rend compte de quatre années d'activité d'un robot informatique (bot) sur le réseau social "TUMBLR". Ce Bot est un programme informatique simple utilisant le contenu des autres utilisateurs aléatoirement pour créer son propre blog.

Grâce à l'accumulation de 35 000 hashtags permettant le référencement du contenu sur le réseau, ce bot permet d'avoir une vision réaliste de l'ensemble de ce réseau, comme un échantillon. Après l'accumulation des hashtags aucun filtre n'est posé sur le contenu. Le Bot "reblog" le contenu toutes les septs minutes depuis l'année 2015 et lors du "reblogage" écrit un commentaire aléatoire suivant une liste prédéfinie. Au il du temps de nouvelles relations émergent de son fonctionnement simple, recevant de nombreux messages, et mettant en lumière des pratiques et des comportements que l'on peut découvrir sur ce réseau. Le cliché sociologique d'un système de relations complexes semble se former.
Web:
Generated Website : https://stochastique-blog.tumblr.com
Installation :
Socle bois noir teinté dans la masse
Programme de synthèse vocale lisant des extraits et messages laissés par les internautes du blog stochastique-blog.tumblr.com

Book - Too long not Human (TL;NH)